Astounding!
"We have so much fun reading this as a family. My kids especially love seeing a Princess make her own tea recipes. We have even made plans to make the tea from the book that we are unfamiliar with. I can't tell you how much it means to me to have a book that reflects my heritage and experiences growing up in the US. This book gives me hope that my children will have a better experience than I did. Thank you."
Agnes Patricia M.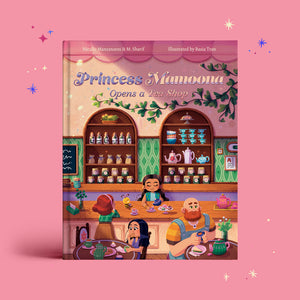 Our Debut Children's Book
Princess Mamoona

Opens a Tea Shop
Princess Mamoona loves to make her own tea recipes. As she relaxes outdoors one day, sipping her delicious tea, she has an idea to open her very own tea shop so that everyone may enjoy her flavorful brews. She is excited to open her shop, but there is much work to be done to make this dream happen. With hard work, determination, and a little help from her friendly neighbors, she learns to dream big dreams and make them come true.
Order Now
Princess Mamoona
Opens a Tea Shop
Watch
The Trailer